Chelsea Pre Season Ends with Draw and Nkunku's Injury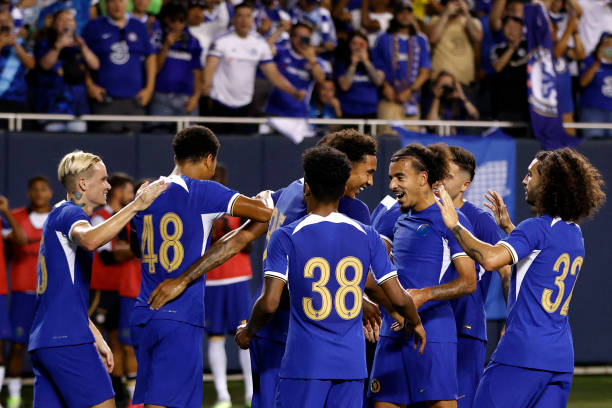 Chelsea pre season tour in the United States came to an eventful close with a 1-1 draw against Borussia Dortmund in Chicago. However, the match was overshadowed by an unfortunate injury to Christopher Nkunku, leaving fans concerned about his availability for the Premier League opener against Liverpool. Despite the setback, some standout performances, including that of young talent Mason Burstow, offered glimpses of hope for the Blues' upcoming campaign.
Nkunku's Injury Casts Shadow:
The pre-season encounter against Borussia Dortmund took an unfortunate turn when Christopher Nkunku, the 25-year-old French winger, sustained a knee injury. Nkunku had been a key performer during the tour, scoring three goals in 268 minutes. The physiotherapists promptly tended to him on the pitch, attaching an ice pack to his knee. With the Liverpool match approaching, the focus will be on his recovery and potential availability.
Burstow's Brilliance and Sterling's Struggles:
Amid the concern over Nkunku's injury, young academy striker Mason Burstow emerged as one of the bright spots for Chelsea. Burstow's goal showcased his promising talent and potential for the future. On the other hand, Raheem Sterling's performances during the pre-season have left much to be desired, failing to contribute with goals or assists. As the pressure mounts on Sterling to improve his form, his inclusion in the starting lineup against Liverpool remains likely, given Nkunku's injury.
Chelsea Pre Season Pochettino's Potential Lineup for Liverpool:
Manager Mauricio Pochettino, who fielded a strong lineup against Borussia Dortmund, would have drawn valuable insights from the pre-season tour. While Mason Burstow's stellar display has earned him praise, the 20-year-old's defensive prowess and partnership with Thiago Silva have likely secured him a starting spot against Liverpool. The manager's faith in Sterling's abilities could also feature him in the lineup.
Pitch Condition Controversy:
During the tour, fans were treated to a special performance by pop superstar Ed Sheeran at the stadium. However, the aftermath of the concert led to concerns about the Soldier Field pitch's condition. Some believe the poor playing surface may have contributed to Nkunku's injury, raising questions about scheduling events at sports venues.

Chelsea's US pre-season tour may have ended with a draw, but the injury to Christopher Nkunku has left fans apprehensive. The team's performance, particularly Mason Burstow's bright showing and Raheem Sterling's struggles, provide intriguing talking points as the Premier League opener against Liverpool approaches. With the focus shifting to recovery and preparation, Chelsea aims to start the season positively and continue building on their promising squad for the challenges ahead.
Image Source:
Embed from Getty Images