The Arrival of Moises Caicedo: Chelsea's Midfield Transformation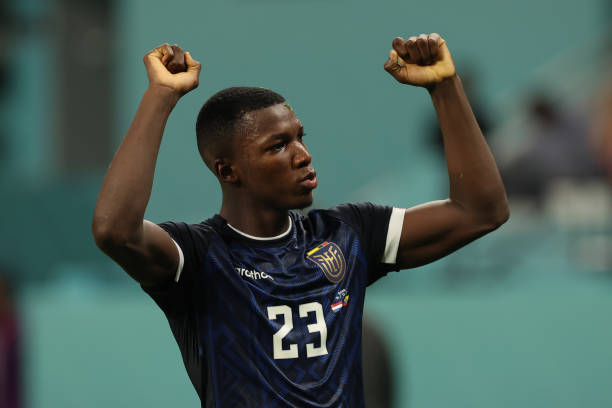 Amid a £107 million deal to secure the services of Enzo Fernandez in January, Chelsea strategically pinpointed their next pivotal acquisition – Moises Caicedo. This dynamic midfielder was seen as the missing piece to complete their midfield makeover, offering the physical prowess needed to complement Argentina's World Cup champion within the confines of Stamford Bridge.
As the ink dried on Caicedo's monumental £115 million transfer from Brighton, Mauricio Pochettino, the head coach, could now proudly boast the two most valuable players in the annals of British football, firmly anchoring them at the core of his squad.
With a long-term vision, Chelsea aspires to forge a formidable midfield partnership that will stand the test of time. The combined talents of the 22-year-old Fernandez and the 21-year-old Caicedo are envisioned as the catalysts to propel the club to new heights, both domestically and on the European stage.
The spotlight now shines on Southampton's Romeo Lavia, a potential high-stakes midfield addition, whose arrival might necessitate Fernandez's transition into a No10 role. This tactical evolution was recently witnessed in Sunday's electrifying 1-1 draw against Liverpool, where Fernandez excelled in a more advanced position.
Chelsea's pursuit of Caicedo was unwavering, marking them as the sole contenders from the outset of the transfer window. An initial bid of £60 million was swiftly surpassed, culminating in an expenditure almost twice the sum of their original offer. Remarkably, this financial commitment was made for a player who Brighton had acquired for a mere £4 million just months prior, in February 2021.
Driven by a resolute belief in Caicedo's potential synergy with Fernandez, Chelsea spared no expense. Their conviction was bolstered by insider knowledge held by sporting director Paul Winstanley, who had personally overseen Caicedo's tenure at Brighton. Winstanley's keen observation of the Ecuadorian's seamless adaptation to English football fueled his assurance that Caicedo would fulfill Chelsea's unmet needs.
Impressively, Caicedo boasted a 78.1 percent tackle success rate, making an astonishing 100 tackles in the league last season – a figure eclipsed only by Fulham's Joao Palhinha. Standing at a modest 5 feet 10 inches, he further established his prowess by claiming victory in 63.8 percent of his aerial duels.
Moises Caicedo indomitable spirit was cultivated during his upbringing in the rugged expanse of Santo Domingo, nestled in the Andes mountains of northern Ecuador. Amidst the challenges of growing up as the youngest of ten siblings, his passion for Chelsea was ignited. As a teenager, he meticulously studied the playing style and positional mastery of Claude Makelele and N'Golo Kante, aspiring to emulate their adeptness at regaining possession.
But Caicedo's influence extends beyond his defensive duties. Standing as the third-most expensive player in history, trailing only Neymar and Kylian Mbappe, he seamlessly blends technical prowess with his role as a midfield disruptor.
"Moises Caicedo possesses a rare midfield skill-set and is a player we've been targeting for some time," stated Chelsea's co-sporting directors, Laurence Stewart and Paul Winstanley. "We believe he will significantly impact Stamford Bridge this season — and in the years ahead. He has proved himself as a standout player in European football over the past 18 months, and we are thrilled to add him to Mauricio Pochettino's squad."
While Chelsea intends to retain Andrey Santos for midfield depth, the acquisition of Caicedo could potentially prompt the temporary departures of Lesley Ugochukwu and Carney Chukwuemeka. Meanwhile, Conor Gallagher remains determined to compete for his spot, even as Chelsea contemplates his potential sale to ensure financial equilibrium.
In Caicedo's own words, "When I was a kid, I supported Chelsea and used to watch the games. Now it is amazing to be here. It is one of the biggest clubs in the world. I can't wait to start with the guys, to give my best, and to write my own story."
With Moises Caicedo's arrival, Chelsea's midfield narrative embarks on a new and exhilarating chapter, as the club's ambitions are met with the promise of a brighter future.
Image Source:
Embed from Getty Images