Chelsea's Resilience Shines Through: Navigating Challenges on the Path to Glory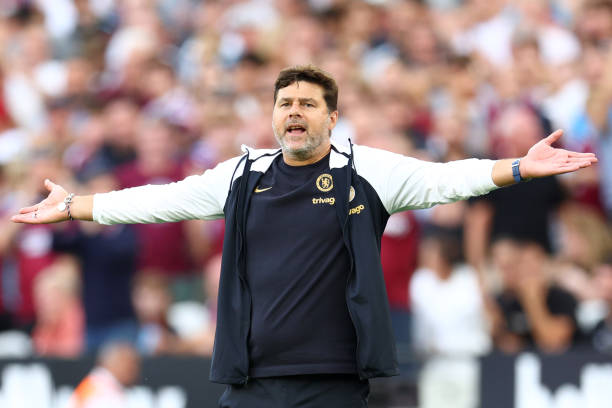 Mauricio Pochettino's inaugural defeat at the helm offers a valuable lesson in Chelsea's determined march towards reclaiming their former glory. While the journey might encounter its share of challenges, the Blues are resolute in their pursuit.
The aftermath of a spirited summer paints a picture of renewal, with a dozen internationals bidding farewell and an investment of nearly £400 million to replenish the ranks.
In the initial half, Chelsea showcased their mettle, highlighted by Carney Chukwuemeka's well-timed equalizer following Nayef Aguerd's opening salvo. The second 45 minutes witnessed a spirited performance by the opposition, yet Chelsea's competitive spirit remained undaunted.
Michail Antonio and Lucas Paqueta's contributions sealed the fate of the match. Enzo Fernandez and Moises Caicedo, both prized acquisitions, had their moments, a testament to their growth despite minor setbacks – Enzo's missed penalty and Caicedo's debut learning curve, culminating in a late injury-time penalty.
While Nicolas Jackson and Raheem Sterling demonstrated their prowess in orchestrating plays, the lingering question of Chelsea's goal-scoring potential remains. The financial outlay of nearly £400 million in the current transfer window and a staggering total investment of almost £1 billion over three seasons underscores the club's dedication. Sterling and Jackson's finesse around the box is undeniable, yet the pursuit of additional goal-scoring power continues, with possibilities of more signings, including a striker, on the horizon.
The advent of a fresh season rekindles familiar injury concerns. Chukwuemeka's milestone senior goal was tempered by his halftime substitution due to injury, adding to a list of eight players dealing with setbacks. While a reminiscent challenge, the resilience that carried Chelsea through previous seasons will undoubtedly shine through.
Reece James' absence in the defensive line was palpable, accentuated by Malo Gusto's inaugural start for the club. The 20-year-old showcased promise, albeit without monumental impact in forward areas. Meanwhile, Levi Colwill's transition to left-back and Axel Disasi's follow-up to his goal-scoring display against Liverpool posed challenges. Thiago Silva, an embodiment of dominance, experienced a relatively subdued outing. In the face of these defensive intricacies, Chelsea's defense remained steadfast against set pieces, despite facing the league's most adept practitioners, further amplified by James Ward-Prowse's inclusion.
In summation, Pochettino's leadership faces tests that are pivotal in shaping Chelsea's resurgence. Tackling the goal-scoring equation, managing injuries, and fine-tuning defensive balance will inevitably propel the club toward the pinnacle they strive for.
Image Source:
Embed from Getty Images