Djordje Petrovic Joins the Blues in Goalkeeping Reinforcement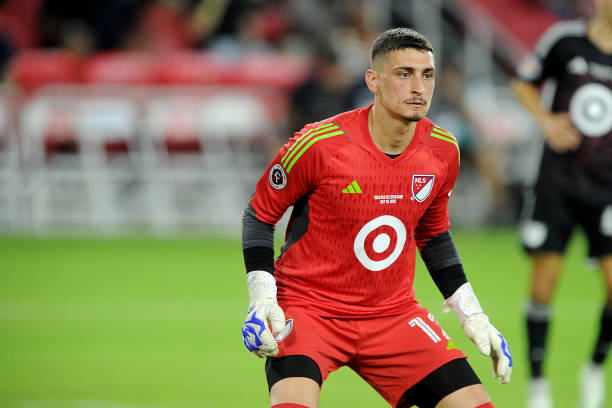 Chelsea's ambitious summer transfer spree continues with the acquisition of Djordje Petrovic, the talented Serbian goalkeeper. The international player joins the ranks at Stamford Bridge following his move from New England Revolution, stepping in to replace the outgoing Kepa Arrizabalaga, who has embarked on a loan spell with Real Madrid.
Chelsea secured Petrovic's services for a fee of £11.8 million, underscoring their commitment to fortifying the squad. At 23, Petrovic brings youthful energy and a competitive edge to the goalkeeping position, where he will vie with fellow newcomer Robert Sanchez for the coveted No. 1 jersey.
The contract agreement with Petrovic spans an impressive seven years, with an option for an additional 12 months, setting the stage for a potentially long and fruitful partnership between the player and the club.
In expressing his excitement about joining Chelsea, Petrovic shared his admiration for the Premier League, a competition he grew up watching. He enthused, "It's truly a dream come true for me to be here now. The intensity of the league and the unwavering passion of the supporters are things that resonate deeply with me." Having witnessed Chelsea's recent victory over Luton from the stands, Petrovic is already immersed in the team's journey.
Reflecting on the club's legacy, Petrovic revealed his knowledge of Chelsea's history and his admiration for past players. He fondly recalled watching iconic figures like Didier Drogba and highlighted his affinity for Serbian talents such as Branislav Ivanovic and Nemanja Matic. "I'm proud to be the next Serbian player to don the Chelsea jersey," he affirmed. "My aim is to contribute positively to the club, much like the Serbian players before me."
Petrovic's arrival marks Chelsea's tenth significant signing of a dynamic summer transfer window. The club's proactive approach has seen them secure the services of key talents across various positions. Nicolas Jackson and Christopher Nkunku were the initial additions, reinforcing the attacking front, while Angelo Gabriel's arrival marked their first acquisition from Brazil. Lesley Ugochukwu and Axel Disasi joined from French football, followed by the arrivals of Robert Sanchez, Moises Caicedo, Romeo Lavia, and Deivid Washington in August.
As Chelsea continues to shape its squad for the upcoming season, the addition of Djordje Petrovic amplifies the team's depth and competitiveness, signaling their unwavering pursuit of success in domestic and international competitions.
Image Source: