Match Report: Chelsea Holds Liverpool to a Thrilling Draw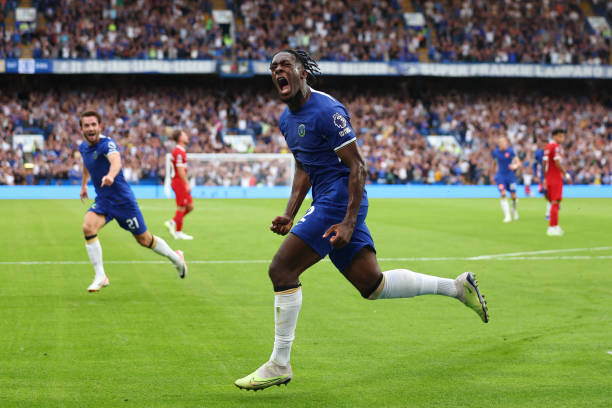 The highly anticipated Mauricio Pochettino era at Chelsea kicked off with an exhilarating 1-1 draw against Liverpool on the Premier League's opening weekend.
The clash unfolded at Stamford Bridge, where Liverpool seized an early advantage through a goal by Luis Diaz. The dynamic winger expertly capitalized on a splendid pass from Mohamed Salah, finding the net with a sliding finish. Salah, displaying his usual flair, nearly added another, lofting the ball past Robert Sanchez, only to be denied by the offside flag as determined by VAR.
As the match progressed, Chelsea's resilience came to the fore, and their efforts were rewarded as defensive vulnerabilities in the Liverpool ranks became evident. A well-placed header by Ben Chilwell set up Axel Disasi for a memorable debut goal, leveling the score before halftime.
VAR played a pivotal role once again, sparing Liverpool's blushes as Chilwell's subsequent goal was disallowed due to a marginal offside call against Trent Alexander-Arnold. The game remained tightly balanced, with Chelsea dominating possession and pushing Liverpool deep into their own territory throughout the second half.
A standout moment saw Nicolas Jackson test the Liverpool defense, exploiting his pace to bypass Ibrahima Konate before launching a powerful shot straight into the hands of Alisson. The Blues' offensive prowess was palpable, and victory seemed within reach.
In the dying moments of stoppage time, an opportunity materialized for Mykhailo Mudryk, who was set up for a potential match-winning chance. Mudryk's intricate maneuver around Alisson showcased his skill, but the ball eluded his grasp, leaving Chelsea with a share of the points in an enthralling curtain-raiser.
While the match concluded without a clear victor, the Mauricio Pochettino era unveiled promising glimpses of Chelsea's revamped style and determination. The Blues' attacking verve and steadfast defense set the stage for an exciting chapter under Pochettino's guidance. As the season unfolds, fans can eagerly anticipate more thrilling encounters and captivating performances from the rejuvenated Chelsea squad.
Image Source:
Embed from Getty Images