Pochettino's Blueprint for a New Chelsea Era: Stability, Success, and Transformation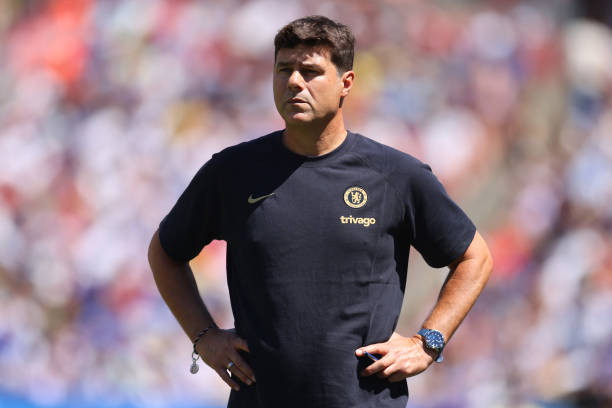 As the Chelsea faithful eagerly anticipate the dawn of a new era under Mauricio Pochettino's guidance, hopes are high for a redefined identity and a departure from the tumultuous times of recent memory. Pochettino's first test at the helm comes in the form of a challenging showdown against Liverpool this weekend. But beyond the immediate fixture lies a vision that draws inspiration from Jürgen Klopp's impressive Anfield evolution.
Klopp's nearly eight-year tenure at Liverpool serves as a poignant reminder that sustainable success takes time to materialize. It wasn't until his fourth season that Klopp secured his maiden major trophy, showcasing the rewards of a patient and methodical approach. This strikingly contrasts Chelsea's managerial carousel, which has spun with five changes since the takeover by Todd Boehly and Clearlake Capital just last summer. Such a swift rotation naturally raises concerns about stability, casting a shadow over Pochettino's entry into Stamford Bridge.
In response to these apprehensions, Pochettino is resolute in his mission to engineer a transformative shift. "Perceptions matter," he asserts. "If there's an impression of instability on social media, among our loyal fanbase, or in the wider football community, it's our duty to alter that perception." The Argentine mastermind remains unwavering in his belief in Chelsea's innate ability to triumph, underpinned by its storied history and passionate supporters.
"Chelsea," Pochettino reflects, "has always been synonymous with victory. A club with a legacy of lifting Premier League trophies and conquering the European stage." However, the recent winds of change have presented challenges that cannot be underestimated. Pochettino acknowledges these hurdles as part of the journey.
Expanding on his blueprint, Pochettino emphasizes the importance of patience during this transition. He envisions a Chelsea that not only clinches victories but does so with a captivating and attractive style of play that resonates with the loyal supporters who flock to Stamford Bridge.
Pochettino also draws parallels with other managerial success stories. He lauds Klopp's achievements and cites Mikel Arteta's promising strides at Arsenal and Pep Guardiola's transformative influence at Manchester City. When probed about the need for patience given Chelsea's recent ownership change, Pochettino offers a measured response: "Our commitment lies in unwavering dedication. Decisions regarding the club's direction rest beyond my scope. I salute the remarkable accomplishments of coaches like Arteta, Klopp, and Pep."
As Pochettino embarks on this mission to reshape Chelsea's trajectory, our eyes remain fixed on the bridge. The question looms large: Can his vision of stability, success, and transformation rewrite the narrative surrounding our beloved Blues? The journey promises to be as enthralling as the destination.
Image Source:
Embed from Getty Images