£48 Million Bid Romeo Lavia to Chelsea: The Battle Against Liverpool Intensifies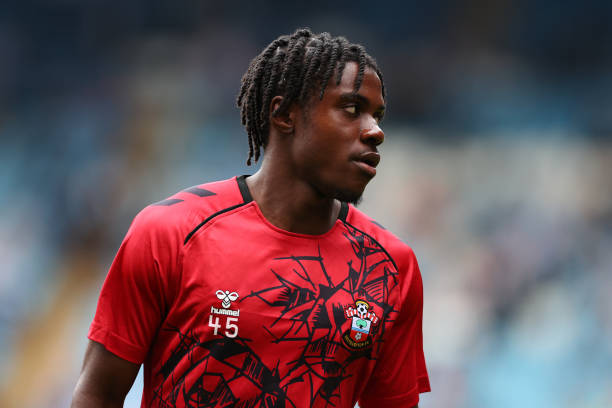 In a bold and unexpected maneuver, Chelsea has tabled a remarkable £48 million offer for Southampton's rising star, Romeo Lavia. This audacious move aims to outmaneuver Liverpool, who have been negotiating for the 19-year-old midfielder all summer. Chelsea's surprise entry into the race has injected new intrigue into the transfer saga.
Chelsea's Midfield Revolution:
Seeking to bolster their midfield prowess, Chelsea isn't only eyeing Romeo Lavia, but also advancing talks with Brighton for Moises Caicedo. A potential £100 million deal, including add-ons, is on the horizon, showcasing Chelsea's determination to reshape their midfield dynamic with the 21-year-old Ecuadorian talent.
The Lavia Tug of War:
With Southampton valuing Romeo Lavia at £50 million, Chelsea and Liverpool are both in the running. Chelsea's drive to secure Lavia's services intensifies as they aim to secure his signature before their season opener against Liverpool. Lavia's personal link to Chelsea's recruitment director, Joe Shields, adds intrigue, given Shields' role in Lavia's Southampton recruitment last year.
Liverpool's Hurdles, Chelsea's Tenacity:
Liverpool's pursuit of the Belgian midfielder has been met with several rejections by Southampton. A £45 million offer from Liverpool was deemed insufficient, prompting criticism from former Liverpool defender Jamie Carragher. Meanwhile, Chelsea's aggressive pursuit puts pressure on Liverpool to reevaluate their strategy.
Impact on Chelsea's Midfield Landscape:
Chelsea's pursuit of Romeo Lavia and Moises Caicedo raises questions about Conor Gallagher's future. The 23-year-old midfielder, though open to staying, is reportedly being offered to rival clubs. Mauricio Pochettino faces midfield decisions, considering talents like Gallagher, Enzo Fernandez, Andrey Santos, Carney Chukwuemeka, and newcomer Lesley Ugochukwu for the Liverpool clash.
The summer transfer window unfolds with Chelsea's audacious moves, sparking a fierce midfield rivalry. With Liverpool feeling the heat of Chelsea's determined pursuit, their showdown at Stamford Bridge promises an intense start to the season, fueled by the battle for Lavia's signature. In the midst of this, Conor Gallagher's fate underscores the intricate dance of negotiations that define football's transfer landscape.
Image Source:
Embed from Getty Images