Chelsea's 2023-24 Premier League Start: The Reality Beneath the Surface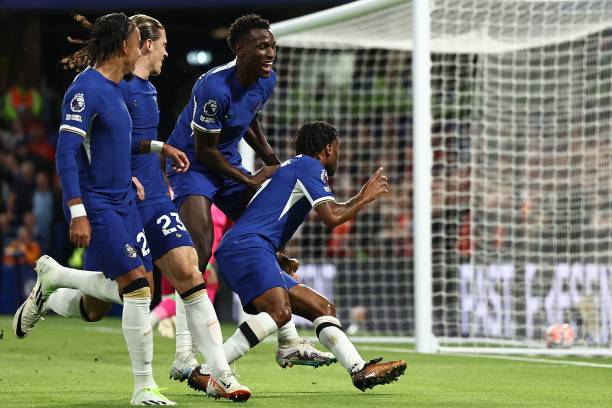 In the early stages of the 2023-24 Premier League season, Chelsea's performance has been under the microscope. Critics are quick to label it a disaster, but let's delve deeper into the story beyond the numbers.
Mixed Results:
Mauricio Pochettino's squad has garnered just five points from their first five matches, currently resting at the 14th spot in the table. While they've only secured one win, it's crucial to assess their performance without solely focusing on their hefty transfer spending.
Strong Performances:
In several matches, Chelsea has displayed promising football. Despite a slow start against Liverpool, they bounced back and nearly snatched a victory. Their loss to West Ham United can be attributed to isolated moments of brilliance, and they dominated Nottingham Forest, allowing minimal chances.
Building Connections:
The argument of players needing time to gel doesn't entirely hold. Raheem Sterling has formed partnerships with Malo Gusto and Nicolas Jackson, demonstrating their chemistry on the field. Jackson's adaptation to English football is a work in progress, but his potential is evident.
Caicedo's Challenge:
Moises Caicedo, a significant summer signing, has had a shaky start. However, considering his previous performances at Brighton, there's room for improvement. Lesley Ugochukwu's recent debut also showed promise, highlighting his suitability for a deep midfield role.
Tactical Adjustments:
Tweaks in midfield positioning, especially with Conor Gallagher and Enzo Fernandez, are still evolving. The team's playing style hinges on the positioning of Fernandez, a versatile player capable of influencing the game in various ways.
Solid Defense:
Defensively, Chelsea has been reliable, with only occasional scares. Their opponents' open-play expected goals are among the lowest in the league. Thiago Silva continues to be a stalwart in the heart of the defense.
Strong Attack:
Offensively, Chelsea's open-play xG tally ranks sixth in the league, trailing top teams like City, Brighton & Hove Albion, Aston Villa, Tottenham Hotspur, and Liverpool. Additionally, they excel at set pieces, second only to Brentford in creating xG from dead-ball situations.
Control and Possession:
Pochettino's side dominates possession, boasting the highest share in the league at 69.6%. This statistic, however, should be viewed in the context of match dynamics, where Chelsea often dictate play against opponents like Forest and Bournemouth.
While statistics can tell part of the story, Chelsea's season is far from a catastrophe. Their defense is robust, midfield is evolving, and the attack is cohesive, needing only minor adjustments. The verdict? Chelsea might not be in crisis mode as some claim.
Image Source:
Embed from Getty Images